Gahad ke Parathe – 
गहद के पराठे 
Lets see How To Make Gahad ke Parathe Recipe ? This dish is a delicacy in Garhwal district of Uttarakhand. It is exceptionally filling and nutritious as well.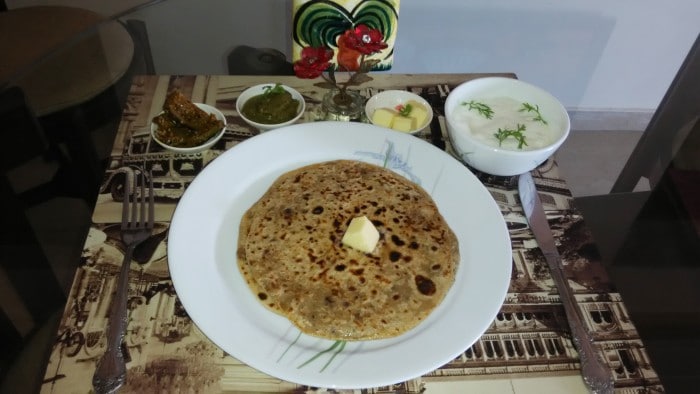 Gahat ke Paranthe-With fragrance so lovely that it makes enough space for having 4-5 paranthas on the double, Gahat ke Paranthe is a popular breakfast dish of Uttarakhand. This mouth-watering dish is set up by stuffing gahat (an exceptional darker lentil) in a blend of wheat and mandua flour (finger millet/ragi). It tastes better when presented with Bhang ki Chutney or custom made pickle.
Ingredients needed for Filling
Horse gram (Gahat)- 1 cup
Garlic- 4-5 cloves
Ginger- 1 inch piece
Chillies-1-2 nos.
Salt- to taste
Lime juice or dry mango powder (Amchoor)- a little (optional)
Coriander leaves – 1 tbsp (Chopped)
Wheat flour dough – to make parathas
Method-
Splash gahat ki daal medium-term or for 4 to 5 hours.
Bubble it by including minimal salt in it.
Drain excess water (Do not throw this water as it is considered a remedy for removal of stones from our body.)
Grind the boiled pulses with garlic, ginger, chillies, and salt.
Make it thicker and add chopped coriander leaves and 1 tsp. of lime juice or dry mango power.
Prepare wheat dough separately and fill this mixture inside each ball to make fine parathas.
Serve these parathas with chutney and fresh curd.
Gahad ke Parathe Recipe – गहद के पराठे पकाने की विधि
भरने के लिए आवश्यक सामग्री
घोड़ा ग्राम (गहट) – 1 कप
लहसुन- 4-5 लौंग
अदरक- 1 इंच टुकड़ा
मिर्च-1-2 नंबर
नमक स्वादअनुसार
नींबू का रस या सूखा आम पाउडर (आमचूर) – थोड़ा (वैकल्पिक)
धनिया पत्ते – 1 बड़ा चम्मच (चोटी)
गेहूं आटा आटा – पराठा बनाने के लिए
तरीका-
रात में गहट दाल  4 से 5 घंटे सोखें।
इसमें थोड़ा नमक जोड़कर उबालें।
अतिरिक्त पानी निकालें (इस पानी को फेंक न दें क्योंकि इसे हमारे शरीर से पत्थरों को हटाने के लिए एक उपाय माना जाता है।)
उबले हुए दालें लहसुन, अदरक, मिर्च, और नमक के साथ पीस लें।
इसे मोटा बनाओ और कटा हुआ धनिया पत्तियों और 1 चम्मच जोड़ें।
गेहूं के आटे को अलग से तैयार करें और ठीक पराठा बनाने के लिए प्रत्येक मिश्रण के अंदर इस मिश्रण को भरें।
चटनी और ताजा दही के साथ इन पराठाओं को सर्व करें।