Kumaoni Jholi  – 
कुमाओनी झोली 
Lets See how To make Kumaoni Jholi Recipe, Jholi is curry readiness from slopes of Uttarakhand. Like Kadhi formula from north India, this is bit thicker and spicier.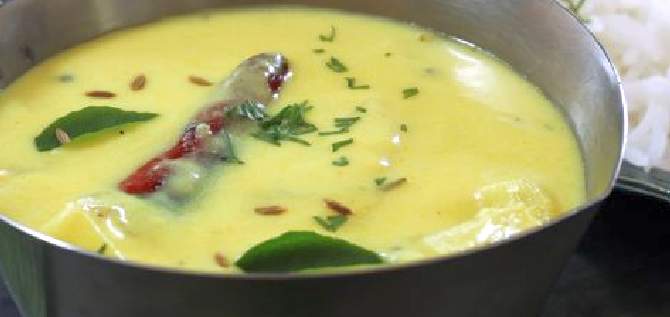 INGREDIENTS
1

 

cup

 

Besan / bengal gram flour

Salt as per taste

1/2

 

teaspoon

 

Red chillies powder

1 

teaspoon 

Turmeric powder

1/2

 

teaspoon

 

Dry coriander seed powder

1

 

pinch

 

Asafoetida/hing

4

 

red chillies, whole

1

 

teaspoon

 

jeera / cumin seeds

5

 

garlic cloves

1/2

 

cup

 

ghee

3

 

cups

 

Curd

Chopped spinach / local green vegetables – optional
INSTRUCTIONS
Beat besan alongside little water, turmeric and minimal salt to thick glue.
Steadily add curd and blend well to streaming blend.
Heat oil. Splutter cumin seeds. Fry garlic till light brown. Add red chillies and hing.
Add curd mixture and spice powders – coridander seed powder, red chilli powder and turmeric powder.
Stir continously till gravy thickens and boils.
Cook for 5-10 minutes. Modify taste with salt and consistency with water.
Include cleaved greens. Cook for couple of minutes till leaves are delicate.
Topping with coriander leaves/chillies and serve Jholi as side dish to rice alongside ghee.
Kumaoni Jholi Recipe – 
कुमाओनी झोली पकाने की विधि
सामग्री
1 कप बेसन / बेंगल ग्राम आटा
स्वाद के अनुसार नमक
1/2-चम्मच लाल मिर्च पाउडर
1/2 चम्मच हल्दी पाउडर
1/2 चम्मच सूखी धनिया बीज पाउडर
1 चुटकी Asafoetida / हिंग
4 लाल मिर्च, पूरे
1 चम्मच जीरा / जीरा बीज
5 लहसुन लौंग
1/2 कप घी
3 कप दही
निर्देश
मोटी पेस्ट के लिए थोड़ा पानी, हल्दी और थोड़ा नमक के साथ बेसन मिलाएं।
धीरे-धीरे मिश्रण को बहने के लिए दही जोड़ें और अच्छी तरह मिलाएं।
हीट तेल Splutter जीरा बीज। हल्के भूरे रंग तक लहसुन फ्राइये करें। लाल मिर्च और हिंग जोड़ें।
दही मिश्रण और मसाले पाउडर जोड़ें – धनिया बीज पाउडर, लाल मिर्च पाउडर और हल्दी पाउडर।
ग्रेवी मोटाई और फोड़े तक लगातार हिलाओ।
5-10 मिनट के लिए कुक करें। पानी के साथ नमक और स्थिरता के साथ स्वाद समायोजित करें।
कटा हुआ साग जोड़ें। पत्तियों को निविदा तक कुछ मिनट तक कुक करें।
धनिया पत्तियों / मिर्च के साथ गार्निश और घी के साथ चावल के साइड डिश के रूप में झोली सर्व करें।